Jack Hardy Old News
Jack on Bob Fass's Show on September 27, 2007
Hosting of the Bards Festival
"St. Clare" on Felicity May 1st, 2002
Jack on World Cafe March 7th, 2002
Victory in Apartment Case
Jeff Hardy Victim of World Trade Center Tragedy
Jack Wins Wildflower Songwriters Contest
Bottom Line Benefit a Big Success; Signed Posters Available
Al Grierson
Kerrville Photo
Back Home Studio Open House on July 8th (Pennsylvania)
New Album: Omens!
July 1999 Tour of Europe
Jack at the 1998 Falcon Ridge Folk Festival
Sing Out! Feature
The Passing (1996-1997 Album)
Kate Wolf Memorial Award
Jack Wins South Florida Folk Festival Songwriter Contest
Fast Folk Taken Over by Folkways/Smithsonian (at folkmusic.about.com)
The Collected Works of Jack Hardy (CD Boxed Sets!)

Jack on Bob Fass's Show on September 27, 2007
Jack will be on Bob Fass's show on WBAI-FM in New York City on Thursday, September 27, 2007. The show starts around midnight, so it will actually be the early hours of Friday, September 28.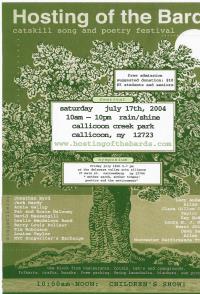 Hosting of the Bards Festival
The Hosting of the Bards, a Catskill Song & Poetry Festival and Symposium, will take place again this year on July 16 and 17 in Narrowsburg and Calicoon, New York. For more information, see www.hostingofthebards.com.


Suzanne Vega's recording of Jack's song "St. Clare" will be part of the episode of Felicity that will air on May 1st.

Update May 2, 2002: Information on the episode and an mp3 of Suzanne's version is available at the Felicity Tunes web site.

Jack's own version of the song in a recent concert may be heard at Jack Hardy in Performance.

An interview with Jack will be broadcast on World Cafe on March 7th. Check the World Cafe web site to find local station(s) that carry the radio program.

As reported in the December 24, 2001, New York Times, Jack has won the eviction case brought against him by the owners of his rent-stabilized apartment apartment in Greenwich Village. The apartment has served as the meeting place for the weekly Songwriters' Exchange gatherings for some 18 years.

Jack has expressed his thanks and appreciation to everyone who helped in this struggle, including those who supported the November 2000 benefit concert.

Jack's brother Jeff is missing and presumed dead in the New York City World Trade Center tragedy. Jeff played bass on many of Jack's albums, as well as on many of the Fast Folk recordings. He toured in Jack's band for 11 years.

In recent years Jeff worked as an executive chef at Cantor Fitzgerald, on the 101st floor of the north tower.

Anyone wishing to make a donation in Jeff's memory may consider the Windows of Hope Family Relief Fund, which provides aid to the families of victims of the World Trade Center tragedy who worked in the food service profession throughout the complex.

Willie Nininger's Tribute to Jeff

September 27, 2001, New York Times portrait of Jeff

September 25, 2001, article on Jack and Jeff in the New York Times

Jack was one of three winners of the Songwriters Contest at the Wildflower Festival in Richardson, Texas, on May 19, 2001. He was recognized on the strength of two new songs, "Autumn" and "Ponderosa and Piñon Pine." The other winners were Rachel Bissex and Josh Lampkin.
A benefit for the defense of Jack's rent-stabilized apartment, headlined by Suzanne Vega, took place at the Bottom Line in New York City on November 18. Jack's Greenwich Village home has also been the home of the Songwriters' Exchange for 17 years. The benefit was a huge success, with both shows sold out, including standing-room-only tickets.

Bruce Miyashita's Report on the Show

Jack thanks everyone who attended, contributed in lieu of attending, or participated. He's touched by everyone's generosity and is grateful for all the support.

Signed copies of Tim Robinson's beautiful poster for the event are available for $20, including postage. Proceeds will go to the defense of Jack's apartment. To obtain one, send a check for $20 made out to Jack Hardy to:

Jack Hardy
178 W. Houston Street, Suite 9
New York, New York 10014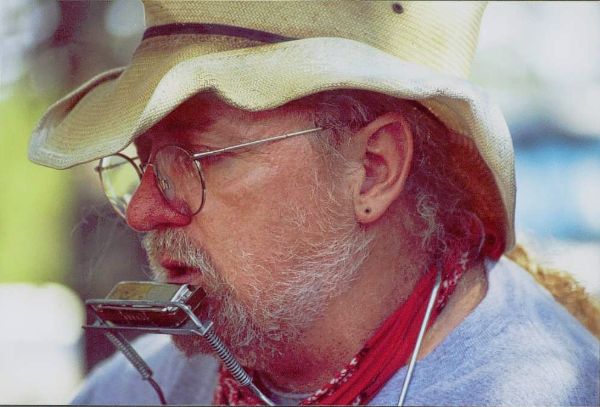 photo by Arthur Wood
Al Grierson–singer, poet, songwriter, song historian–died November 2, 2000, in a flash flood near his home in Texas. Jack has written a song for his good friend and he performed it for the first time at The Vanilla Bean in Pomfret, Conn., on November 11, accompanied by Mike Laureanno on bass.

Listen to Jack's performance:

introduction (mp3 format, 1309KB)

"The Ghost of Grierson" (mp3 format, 128Kbps stereo, 3124KB)

"The Ghost of Grierson" (mp3 format, 192Kbps stereo, 4689KB)


Jack and Al, circa 1996

Jack and Al, 1997 (photo by Bill Nash)



Jack is spending two weeks in late May/early June at the Kerrville Folk Festival in Texas, as he has for many years. Alan Rowoth has posted a photo that includes Jack on his Kerrville 2000 page.

Jack will perform during the annual open house at Leslie Blake's Back Home Studio on Sunday, July 8th, 2001, starting at 10:00 a.m. The studio is in northwestern Pennsylvania.

Local Press Clipping on the Event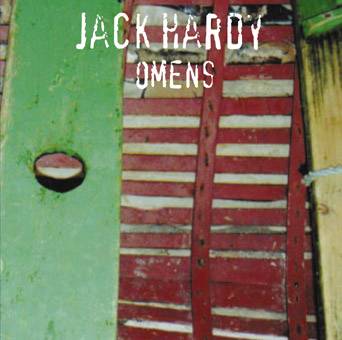 Jack's new album, Omens has been released by Prime CD. Four top musicians play with Jack on the recording:

Mike Laureanno - bass & vocals
Tom Duval - electric guitar & vocals
Kate MacLeod - fiddle
Dave Anthony - drums


The album includes many songs that Jack has been playing at his 1999 shows:
I Ought to Know
I Can't Love You
Eclipse
Síle na gCíoch [Sheila]
Síar ón nDaingean [West of Dingle]
Memory
The Yellow-billed Cuckoo
Willow
Arrow
Only One Sky
Oh, Woman
In the Building of the Boat
The Boney Bailiff
A Change of Heart
As a bonus, the CD also contains, as a "hidden track" before the first song, a 19-minute interview of Jack Hardy conducted by Suzanne Vega in December of 1999.
Lyrics and soundclips are available on the web site.
Omens may be ordered by calling 1-800-PRIME-CD.
Jack and his band will tour Europe in July. Concerts are planned in Germany, Switzerland, and Italy. Check the Itinerary page for the latest available information on shows.

Jack's band has been playing at recent U.S. shows and is sharp! It consists of Mike Laureanno on bass and background vocals. Long-time Hardy associate Tom Duval, a veteran of previous European tours, plays lead guitar and also adds vocal backing.

Jack, Tom Duval, and Mike Laureanno
Jack Hardy performed July 24-26 (1998) at the prestigious Falcon Ridge Folk Festival in Hillsdale, New York. He performed the following songs:

In 1997, Jack performed "Willie Goggin's Hat" and "The Zephyr" at Falcon Ridge.

Jack Hardy's career and contributions are profiled in the May/June/July 1997 issue of Sing Out! (vol. 42, no. 1). The issue also includes the words and music for "Morgan's Dance," a song from The Passing.
In 1996, Jack recorded an album which is now available in stores, at shows, and from 1-800-PRIME-CD. It is called The Passing (on 1-800-PRIME-CD, PCD 061) and contains the following songs:

The Passing
Black-eyed Susans
Willie Goggin's Hat
The Hallowe'en Parade
The 20th Century
You Only Leave Your Heart Once
That Close to Crying
If I Ever Pass This Way Again
Dachau
Morgan's Dance

More information on The Passing is available at 1-800-PRIME-CD.



On the weekend of February 1st and 2nd, 1997, Jack Hardy was presented with The Annual Kate Wolf Memorial Award at The Birchmere (Washington, D.C. area). Among the previous winners were Nancy Griffith, Tom Paxton, and Christine Lavin.

Date sent: Tue, 14 Jan 1997 20:26:17 -0500
From: Michael Stock <mstock@DC.SEFLIN.ORG>
Subject: south florida folk festival


I will just pass a long a few notes from this past weekend's South Florida Folk Festival. The weather was good with just the threat of rain, temp. in the mid 70's.

The national songwriting contest had some very good entries. 145 entrents with 2 songs each, finalist at the festival whitteled down to 20. The overall winner was Jack Hardy (the Jack Hardy). He is automatically invited to next year's festival, and according to Jack, it will be the first festival he has been invited to play at.

I am really proud of the efforts put into this 6 year old festival. 4 stages with quality acts throughout the day and a mainstage with, among others, Tom Prasada-Rao, Rod MacDonald,Penny Lang, Small Potatoes and Andrew Calhoun. Jack Hardy performed (with Wendy Beckerman) as winner of the contest on Sunday.

Michael Stock
WLRN FM
"Folk & Acoustic Music"
172 NE 15th Street
Miami, FL 33132
(305)995-2264
mstock@dcfreenet.seflin.lib.fl.us


Jack Hardy appeared at the January 1998 Florida Folk Festival.

Fifty-Fifty Music [formerly Prime CD] has re-issued Jack Hardy's first 10 albums in two five-CD boxed sets:
The Collected Works of Jack Hardy, Part I, Volumes 1 - 5, 1965-1983
The Collected Works of Jack Hardy, Part II, Volumes 6 - 10, 1984-1995
These sets make available Jack Hardy's early and out-of-print albums on CD for the first time, and include his more recent albums, some of which have never been released in the U.S. Lyrics and liner notes for the albums are part of the package.
Part I contains:

Vol. 1: Early and Rare (PCD 051), including selected songs from the album Jack Hardy
        (1970), plus early and rare songs from 1965-1974.
Vol. 2: The Mirror of My Madness (1976) (PCD 052)
Vol. 3: The Nameless One (1978) (PCD 053)
Vol. 4: Landmark (1979-80) (PCD 054)
Vol. 5: White Shoes (1982) (PCD 055)

Part II contains:

Vol. 6: The Cauldron (1984) (PCD 056)
Vol. 7: The Hunter (1984) (PCD 057)
Vol. 8: Through (1989) (PCD 058)
Vol. 9: Two of Swords (1991) (PCD 059)
Vol. 10: Civil Wars (1993) (PCD 060)

Several of the CDs contain bonus tracks that were not available on the original albums.
One may order from Fifty-Fifty Music.