Jack Hardy Biography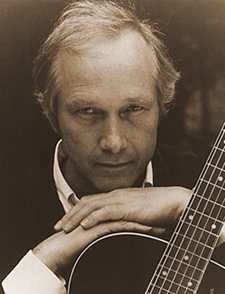 Jack Hardy has devoted his lengthy career to the art and the craft of songwriting. Shunning the pop world of fame and fortune, he has created an alternative universe of songwriters workshops, indie record labels, recorded magazines, all championing the song as an art form. He has issued sixteen albums—not counting compilations, tributes, and duos—starting in 1970, on his own Great Divide label. He has had eight of his plays produced. He founded and edited The Fast Folk Musical Magazine, which issued 105 compilation recordings of (then) unknown artists over its fifteen years, now residing in the Smithsonian. It helped to shape and spearhead the folk and acoustic revival of the '80s and '90s. He started and still hosts the country's longest-running weekly songwriters workshop, now in its 34th year, at his Greenwich Village Apartment. In 1997 he was awarded the Kate Wolf Memorial Award, given to "an artist who makes a difference through his music" by the World Folk Music Association.
Jack Hardy's songs run the gambit from Celtic to western/country, from love songs to social commentary, from political to mystical. When pontificating on the bardic tradition (a favorite subject) he loves to point out that the ancient bards had to master three powers: enchantment, invocation, and curse. Hardy has certainly mastered all these and more, championing a form of literature that is more at home in the pub than in the classroom. That and his forty-five years of experience performing and traveling makes him a unique and engaging (and thoroughly entertaining) character on stage and off, weaving stories, anecdotes, and songs into a fascinating web.
He has toured extensively in Europe: England, Scotland, Wales, Ireland, Germany, France, Italy, Belgium, Denmark, Switzerland, Austria, and also in South Africa and Australia as well as almost every one of the United States. Such artists as Dave Van Ronk, Suzanne Vega, The Roches, Lucy Kaplansky, Steve Gillette and Cindy Mangsen, and many more have recorded his songs. He is the least famous artist with both a boxed set and a "tribute" album.
Jack Hardy's latest album is Rye Grass, described as "a collection of songs of social commentary on both the state of humanity and the state of the inner man." It features the harmonies and fiddle playing of two of his daughters, Morgan and Miranda; harmonies, dobro and banjo playing from Red Molly's Abbie Gardner and Laurie MacAllister; as well as the talents of long time bassist Mike Laureanno. Jack Hardy was born in Indiana and grew up in New York, Colorado and Connecticut. He graduated from the University of Hartford where he won the creative writing award, edited the university newspaper for two years, and became the only person in the history of the country to be arrested and convicted of libeling a President of the United States (Nixon), later thrown out on appeal. He says, "It is far more fun being infamous than being famous." His hobbies include the Irish language and winemaking. He also says: "Shut up and sing the song!"
What the Press Says about Jack Hardy
"Jack Hardy's so at home in the role of the Celtic bard that it's hard to believe that he's home-grown."
Rolling Stone

"Jack Hardy must be getting a little tired of being 'discovered,' but here he goes again... He is no mere imitator... He has a strength of personality on stage that is very striking."
The New York Times

"Jack Hardy reigns as the great mystical contemporary singer-songwriter... Hardy spins his lyrics from as many colors as the instruments weave his melodies."
"Hardy writes love songs like nobody else writes love songs... The songs linger on your mind like the ultimate chocolate dissolving in your mouth. You find yourself wanting just one more."
Sing Out!

"Hardy should be held up as one of the greatest writers of the folk genre with the likes of Bob Dylan, Greg Brown and Kate Wolf... Listening to Jack Hardy is like listening to fine art...one-time songwriting mentor to 90% of the headline bill at most major folk festivals"
Crossroads

"His original melodies often sound like newly-unearthed traditional Celtic airs... His lyrics create a persona rare in American culture; the tough guy who has taken his knocks and tells about it in poetry."
Dirty Linen

Jack Hardy is "a more literate, Celtic Townes Van Zandt, grave in his tone and generous in his ideals, as rooted in the present soil and sky of Ireland and America, as he is fascinated by the legends of the past."
St. Louis Riverfront Times

"With the reissuing of Hardy's first 10 albums, the full range of his talents is showcased for the first time... With his songs set firmly in the centuries-old tradition of Celtic balladry, Hardy shapes his metaphors in a vision that successfully blends history, mythology, romanticism and politics."
"Jack Hardy is one of the most influential figures today in defining the American Folk Song."
The Boston Globe

"...dedicated to the power and beauty of language in song."
Los Angeles Times

"What John Lennon did for rock and roll, Patti Smith did for new wave, and Wynton Marsalis to jazz—Jack Hardy does for folk. He is at the leading edge."
The River Reporter

"Jack Hardy has written some of the most moving songs you'll ever hear"
The Lancaster Times

"I love Jack Hardy... I think he's one of the best singer-songwriters around and he has been for years."
Gene Shay of WXPN-FM

"Jack Hardy is one of the few artists who manage the feat of being an iconoclast and an iconographer."
The Providence Phoenix
What Songwriters Say about Jack Hardy
"I was involved in Fast Folk since the beginning. Jack came up to me one day and said he was thinking of starting a magazine with a record included. I was skeptical. He saw it as a journal of the scene as it was at the time. – He was interested in catching what was out there and documenting it, not creating a finished work of art in these records. I think he pulled it off." "We had a tribe and Jack was the nucleus of it."
Suzanne Vega

"I once attended one of Jack Hardy's songwriting workshops. It has taken me fifteen years to understand what he is up to. I am in awe of what he does."
David Wilcox

"Jack Hardy has written some of the most beautiful songs I have ever heard."
Lucinda Williams

"Jack Hardy writes literature... His songs don't just lie on the page. He makes a song come alive."
"Jack's crows...where everybody's from and nobody knows." [from the album and song "Jack's Crows"]
John Gorka

"He's a brilliant writer, probably the most serious of all the songwriters I know. He's a true descendant of the bards and storytellers of ancient Scotland and Ireland."
Christine Lavin

"Jack's album The Nameless One didn't leave our turntable for a year."
Richard Shindell
University of Hartford Observer: "What Ever Happended to Jack Hardy?"
Biography of The Folk Brothers - Jack Hardy & David Massengill