Bandolier (Jack Hardy, 2002)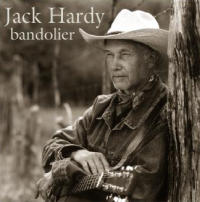 Jack Hardy needs little introduction to most readers on this list. Artistically, he is one of the finest American folk songwriters in the last quarter of the Twentieth Century (and onward). He is a master lyrical poet, as well as a superb and creative crafter of melody. And his importance to the broader folk world - as inspiration, teacher, editor - cannot be overstated. Professionally, his founding of Fast Folk Magazine and - more important - his hosting of the Songwriters Exchange (or Jack's Crows) at his New York apartment for well over twenty years now are two of the small but necessary flames that have kept the fire of folk music burning.
Jack comes to us now with a new album, Bandolier. Hardy has been known primarily as a writer whose work often feels more European than American (The New York Times once said of him, "It's hard to believe he's homegrown"). But his work has been shifting the last few years, and over the last few albums, as Hardy seems to draw more inspiration from (and perhaps find some comfort with) his own homegrown roots. On Bandolier he brings this shift to completeness. The album is Western themed, Texas almost to a T, spare and lean. As Jack once sang of Celtic myths he now wraps his muse around tales from the Southwest. The ballads "Bandolier" and "The Roan" come from the same heart as Jack's earliest writings, but with a decidedly Mexican flavor.
Kerrville Folk Festival regulars will be thrilled to see Jack's tribute to them has finally been recorded. Known in the past as both "Death in Texas" and "Did I Mention the Blue Margaritas?" here it's called "Everything's Bigger in Texas." It contains the classic line: "Drink too much Corona you get lime disease." The song was written as a tribute to Camp Coho/Villa Vino (the finest of all Kerrville camps) and their world-famous blue margaritas.
Another beauty on this collection is "Autumn" - about a woman and the season, and the leaving behind of both. "Dig your fingernails into the naugahyde / let the countryside slide / into another time, another town, another season."
What is especially remarkable about this collection, besides its almost-complete Western slant, is its unusual barefaced introspection. Not that Jack hasn't looked inward before, or frequently: the man doesn't need a map to a find a mirror. But frequently Hardy's wrestling in words with his own life are so obscured in the depth of his lyrics and mythic tales that only the closest of his friends might suspect what it is he's reflecting on. There are obvious exceptions to this, of course, but it can be argued that frequently on previous recordings Jack hasn't so much held his cards close to the chest as try to convince the listener that he holds no cards at all.
Most obvious to this new public introspection, and unquestionably the album's two finest moments, are the songs "Andale" and "Singer's Lament." And they are remarkable not just for their autobiographical flavors, but from where in Jack's life they spring from: his life and legacy as an artist. This from a man who will tell you it is the song, not the singer; it is the final art, not the artist.
"Singer's Lament" wistfully tracks the traveling songwriter returning to the same place as he does every year. "All the leaves have gone / since I last was here / Don't sing the same songs / that we did last year." There's a companionship with the audience that comes through in this song, a relationship. But this is no rosy, glamorized love affair between artist and audience. Rather, a long-time and cheating love, alive but as tired as old age, over twenty or thirty years; there's as much resignation as excitement, as much wariness as trust. There is a sense of duty here, but more a sense of true place in the world, and of inevitability.
"Andale" - one of the most beautiful ballads Hardy has crafted in a long time - flies on a similar path, but is much more deadly in the accuracy of its arrow. The song was devastating on first listen, and subsequent listenings didn't lessen the impact. Like John Gorka's "Campaign Trail" was a reflection on fame and the traveling musician thinly veiled as a politicians lament, "Andale" hides the folksinger in the loose disguise of cowpoke. You dont have to look hard, though. The song shows brief glimpses of the lonely parts of a traveling musician's day and night, and frankly that skin can be filled by the busy and successful almost as well as the obscure and half-broke. Jack confirms here something I've often thought: that we are all alone when we first pick up our guitar, and no matter what measure of success or wind of fortune comes in between, we are again all alone with our guitar at the end of the day, end of the week, end of the tour, end of our lives. And, if late at night in the car, down the road somewhere, icy rain washing over the windshield as two in the morning becomes three, you wonder about your eventual legacy, your eventual impact on the world, Jack answers with this chorus: "You will leave no trace at all / if you go or if you stay."
But those are two-in-the-morning fears. In the bright of day, it is clear (whether he knows it or not) Jack Hardy's own legacy is quite secure. For more information on Jack, and to order Bandolier, go here: http://www.jackhardy.com.